Emergency Runway Lighting for Civil Airport in Thailand
S4GA won a tender for the supply of Emergency Runway Lighting System for Phitsanulok Airport in Thailand. The system includes portable runway & taxiway lighting, portable PAPI lights, power banks and generator set. All airfield lighting equipment is supplied in a compact rigid trailer.
Photos of S4GA Emergency Runway Lights for Thailand
Phitsanulok Airport (ICAO: VTPP) is a domestic airport in Thailand operated by DOA (Department of Airports of Thailand). The airport has 3 000 m paved runway equipped with a wired primary lighting system.
In recent years DOA decided to increase availability and safety of Phitsanulok Airport by investing in an emergency runway lighting. The backup system is required whenever the primary AGL is unavailable: during runway rehabilitation works, AGL maintenance, power failure or any other emergency situations.
S4GA backup runway lighting has been selected as the best solution for the particular airport due to its features:
a certified and compliant with ICAO runway lighting
remotely activated and pilot-controlled lighting
mobility and high autonomy of the lights
high visibility (1200 cd for runway edge)
suitable trailer for storage and transportation.
Portable Airport in a Trailer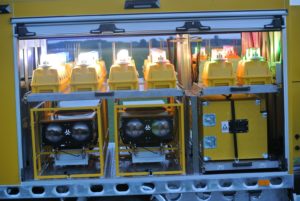 S4GA Trailer offered for the airport in Thailand contains a complete set of airfield lights to illuminate temporary runway within 20 min in accordance with ICAO regulations. It includes:
portable runway & taxiway lighting, pilot-controlled
mobile PAPI, pilot-controlled
power banks & generator sets.
The Trailer is equipped with AGL Control & Monitoring system allowing to activate and control S4GA lights via air-band radio (pilot-controlled lighting). It also notifies airport technicians about lighting fixtures failures (e.g. low battery level, light is out of runway).
Get a quote
S4GA Airfield Lighting Trailers
S4GA AGL Trailers are used today by civil and military customers Worldwide. Check Argentine Air Forces and Northeast Africa case studies on our website.