Solar AirFIELD lighting
An airport in the desert, jungle or on a glacier; also, any other airport where electricity access is hindered or impossible; apart from that, airports the management of which does not have substantial financial resources at their disposal – in all of these cases, solar airfield lighting can be used. It emerged as an alternative to hard-wired airfield lighting  and is more and more popular not only at remote airports but also the most advanced ones.
SOLAR Runway LightS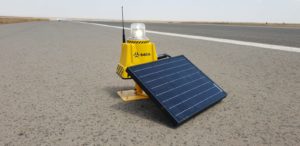 A runway is the most important element of an airport. Thus, many types of lights of different colors are used to illuminate a runway. Solar runway edge lights give out a white light of changeable intensity levels: high (HIRL – high-intensity runway lights), medium (MIRL – medium-intensity runway lights) and low (LIRL – low-intensity runway lights). Runway edge lights are placed all along the runway edges, symmetrically to the centerline. Moreover, there are also runway threshold lights (green, uni-directional lights or red-green, bi-directional lights) and runway end lights (red, uni-directional).
Solar runway edge lights
Runway edge lights are installed on both sides of a runway, symmetrically with its centerline. On an instrument runway, the lights are put at 60-meter intervals; while on a non-instrument runway, they are put at 60-meter intervals. Runway edge lights include white, constant lights. When it comes to instrument runways, in the middle of such a runway (or for the last 600 meters, depending on which distance is shorter), yellow lights are installed. They inform about approaching the end of a runway.
Solar runway threshold lights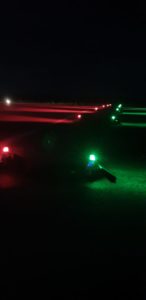 As already mentioned, runway edge lights occur in tandem with threshold lights. But there are two exceptions. These are non-instrument runways and non-precision approach runways where a displaced threshold and wing bar lights are used. Threshold lights are installed on both ends of a runway. They are installed in a threshold line, no more than 3 meters behind a runway end. The number of lights and the intervals between particular lights depend on a runway category. Nevertheless, they are always one-directional, green lights.
Solar Runway End Lights, End of Runway Lights
Runway End Lights help a pilot to identify both the beginning and the end of a runway. It is particularly important if a runway is poorly visible – for instance if there are neighboring lights around. Green lights are installed in the point an aircraft starts landing. Red lights occur in the place the landing operation should end. Runway End Lights are installed in common cases with threshold lights.
Solar approach lights (ALS)
Approach lighting systems consist of light lines installed as a prolonging of a runway. They can start 900 meters from a threshold. Currently, three types of approach lights systems are used at airports worldwide. The first one is a British CALVERT, which is used in Europe. The second one is an American CALVERT, which is used in the United States of America. Apart from these two, we also have military systems. Approach lights are sometimes installed far away from an airport. They are put in special, fragile masts which will break in the event of a collision with an aircraft and prevent any damage.
PAPI system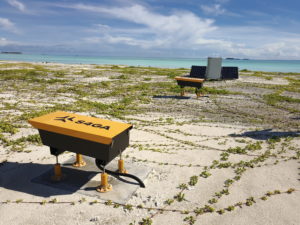 PAPI (precision approach path indicator) informs a pilot about their location in relation to the approach path. It consists of two sets of lights, four units per set, and they are located on both sides of a runway. They are calibrated so that a pilot sees the right light color which depends on the location in relation to the approach path. A pilot receives clues: "too high", "a bit too high", "in the approach path", "a bit too low" and "too low".
Wind Direction Indicator
Wind direction indicator is one of the airport elements that need to be illuminated if a given airport operates at night. The indicator gives information not only about wind direction but also about its speed. The characteristic sleeve starts to move as soon as the wind speed reaches 6 km/h. If the speed exceeds 28km/h, the sleeve fills in with air and takes a shape of a long cone. At the peak of the wind indicator's mast, there can be low-intensity obstruction lights. The cones themselves are illuminated by spotlights.
Taxiway lighting
Taxiway lighting consists of edge lights (blue) and centerline lights (green). Besides, on a taxiway, there are also clearance bar lights (yellow and flashing) and stop bar lights (low-intensity, red lights).
Apron Lighting
An apron, according to the ICAO regulations (International Civil Aviation Organization), does not belong to the movement area of an airport. Therefore, it is more accessible for the users than a runway or taxiway. However, the people intending to use it must obtain a special permission. Aircraft parking, luggage loading and unloading, security check and fueling are the examples of operations that take place at an apron. Thus, this place must be properly illuminated as well. Bright, white lights are used for that, either conventional or solar. Sometimes, it is enough to illuminate aprons with the same blue lights as for taxiway.
Airfield lighting control & monitoring system (ALCMS)
Airfield lighting control and monitoring system allows the control tower to operate the lighting. However, these days, state-of-the-art systems take a step further. A good example is a solar airfield lighting control and monitoring system. Both control and monitoring are handled remotely. It includes each and every lamp and the work of the system as a whole as well. Moreover, different work modes and three or five light intensity levels can be chosen. The activation and deactivation of the entire system can be done via radio or a phone call.
Solar RUNWAY lighting and HARD-WIRED lighting
Hard-wired airfield ground lighting is powered by an electric power grid. It means that the use of alternators, isolating transformers and hundreds of meters of wires is required. Certainly, such a lighting system is almost failure-free. However, if one unit stops working, it can affect the performance of many other elements. Contrary to hard-wired AGL, solar runway lighting consist of elements (lamps) which work independently. The performance of particular units does not affect other units. Besides that, conventional lighting is dependent on MAINS power supply. Solar powered runway lights, however, are 100% independent from electricity and operate on solar energy.
Solar LED runway lights
Last but not least, we should also mention the lightbulbs that are used in solar (but also conventional) runway lighting systems. The moment the LED lightbulbs appeared on the market, they created new possibilities for solar runway lighting. The lifetime of such lights is very long (up to 100 000 hours!). Most importantly, they provide a proper light intensity and color, which, as indicated, is crucial for aircraft navigation.