S4GA offers Airfield Lighting Control and Monitoring System (ALCMS) for airports that are already equipped with non-S4GA wired airfield lighting. S4GA ALCMS does not require any wired network. Communication between ATC Tower and Substation is provided by secured wireless communication network.

NO CIVIL WORKS
NO EQUIPMENT REPLACEMENT
REQUIRED
SECURED RELIABLE
COMMUNICATION NETWORK

WITH ADB, ATG, OCEM, YOUYANG
AND OTHER LIGHTING SYSTEMS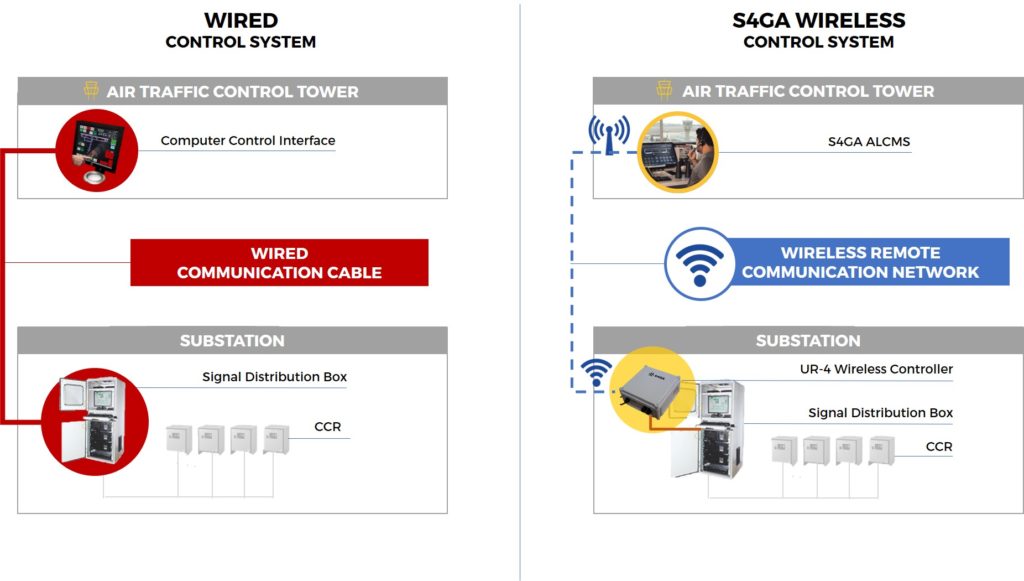 What is the difference between traditional AGL control systems and S4GA's solution?
In traditional ALCMS, an ATC Tower controls airfield lighting via a wired communication network. In simple words, via cables. And, whenever it is required to replace AGL control system, few critical problems appear.
Too expensive. Airport is acquiring a new wired runway lighting from manufacturer X. However,  a control system from this manufacturer costs too much.
Integration of wired and solar AGL systems.  The airport wants to install solar-powered illumination on runway. In the meantime, they have taxiway lights and taxiway signs powered by CCR. They are happy with those elements and they are not willing to exchange it. In this case,  Customer wants to have entire airfield lighting system (solar runway + wired taxiways) controlled by S4GA ALCMS.
Unexpected extra costs.  The Customer only wants to upgrade their AGL Control System and nothing else. They have working CCRs but old control system and they want to upgrade it. Usually, if they contact their current supplier, they would be required to replace everything – including CCRs. Which is expensive and unnecessary.
Why is S4GA ALCMS the best choice for Airport?
S4GA ALCMS is a wireless control system. It means that ATC controls airfield lighting not via cables but via a wireless remote communication network. Such a solution allows upgrading AGL control system without replacing any additional airfield lighting equipment (such as CCRs). Moreover, S4GA ALCMS is suitable for and easy to integrate with any non-S4GA runway lighting made by other manufacturers.
ALCMS
for Solar Airfield Lighting
For those interested in control and monitoring of S4GA Solar Airfield Lighting