Pilot activated lighting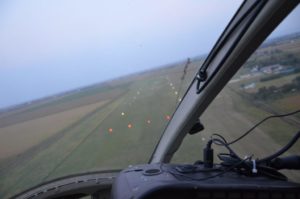 Airport lights, especially runway and taxiway lights, are meant to support a pilot during flight operation. In the case of some airports, hiring operators for such lighting would be cost-ineffective. This is where pilot-controlled lights come into play.
S4GA solar airport lighting is pilot controlled lightning system which combines solar autonomy, remote monitoring, robust design and long service life. Solar powered AGL is designed for permanent applications.
What is a pilot-controlled lighting system?
Pilot controlled lighting is a system that allows for activation and control of airport lighting by an airplane pilot. It includes the approach lighting system (ALS) wind indicator lights, runway edge lights and taxiway lighting. At some airports, one can also control the aerodrome beacon.
Where are pilot-controlled lighting systems used?
Pilot controlled lighting systems are used most often at low-traffic airports or airports that are not equipped with an air traffic control tower. At such airports, it would be uneconomic to keep the lighting working for the entire night or hiring special personnel to operate the lighting. Thanks to the use of pilot-controlled lighting, the lights are turned on when needed only. Doing so, one lowers energy consumption and minimizes light pollution.
Solar AGL pilot-controlled lighting
Solar lighting is often used at airports that are located in places where there is no electricity access or it is hindered. Such lighting can be also controlled by a pilot. Such a solution combines reliability, long durability and the comfort of remote control.
Pilot-controlled lighting user authorization
As already mentioned, pilot-controlled lighting systems are protected from unauthorized uses. Therefore, only Administrators and Users have access to using it. Only Administrators can authorize Users and adjust the system settings. Both Administrators and Users can monitor the system in real time and receive automatic alarm notifications.
Pilot control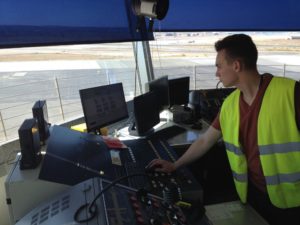 Pilot-controlled lighting systems also allow an operator to monitor the system in real time. They can choose one of the following ways:
Computer interface (ALCMS Basic, ALCMS Advanced)
Sending a technical text message (as a response to such a message, an operator will receive a short technical report regarding the lighting system status)
Automatic alarms. The user will receive an automatic alarm text message in the event of an emergency. For instance, if a battery level of any of the lights goes below 20% or a light stops working. In that way, an operator can react and prevent any threats that a lighting system malfunction can cause.
Integrating with the current system
The best lighting systems allow for integrating a pilot-controlled lighting system with the current lighting system. Doing so, a User can activate the lighting of the entire airport (taxiway, runway, wind indicator and PAPI (Precision Approach Path Indicator) with the use of just one device.
Remote diagnostics
Pilot activated lighting systems allow for remote diagnostics and technical problem-solving. The units are equipped with USB and LAN ports. The LAN port provides the module with Internet access, which enables remote maintenance of the module. The USB ports are used for module upgrades if there is no Internet access.