Report: Reliability of the S4GA Solar Permanent Runway Lighting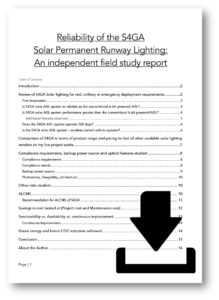 March 20, 2017 – 'Reliability of the S4GA Solar Permanent Runway Lighting: An Independent Field Study Report'.
This Report is an independent study of the performance of S4GA Solar Runway Lighting as a permanent or emergency runway illumination for airports. It details a review in terms of compliance, reliability vs. availability vs. continuous improvement, live study observation in terms of product availability and pricing comparison and various inputs which you will be requiring as an airport operator in deploying S4GA as your AGL partner with its various competitive advantages over other conventional AGL methods.
Study on Reliability of Solar Airfield Lighting
One of the main goals of any modern airport is to make sure that the safety of operations is at the highest level at every single airport the Company manages. This goal is achieved by running multiple programs and initiatives such as upgrading different airport systems, investing in environmentally friendly technologies, optimizing airport's expenditures, and following airport sustainability strategies.
S4GA solar airfield lighting has been studied by Dr. Tennyson as a new airfield lighting solution in many countries and airports with his technical know-hows of different teams and explains his reports that S4GA is sustainable, reliable, cost-effective, and meets international civil and military aviation regulations. This Report is a result of the studies on S4GA solar system in terms of
Compliance
Reliability
Availability
AGL Technology (LED and other technical prospects)
Comparison to conventional electrical AGL systems
Technical compatibility to existing airfields.
The Independent Study is prepared by Dr. Prem Tennyson, BEng, PMP, ITIL V3 and six sigma certified professional with 18+ years experienced Airport Systems, IT and industrial control systems automation specialist currently working as Airfield Manager Operations with Gulf Federation Airports.
Key topics covered in the report
1. Review of S4GA solar lighting for civil, military or emergency deployment requirements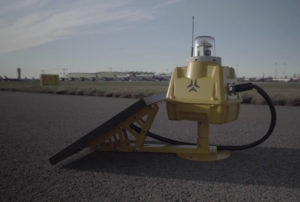 In this part,  You will find the answers to the following questions:
Is S4GA solar AGL system as reliable as the conventional 6.6A powered AGL?
Is S4GA solar AGL system performance greater than the conventional 6.6A powered AGL?
Does the S4GA AGL system operate 365 days?
Is the S4GA solar AGL system – wireless control safe to operate?
2. Comparison of S4GA in terms of product range and pricing to that of other available solar lighting vendors
A cost comparison and products availability of S4GA and few other vendors on solar AGL market are provided by the author in this part.
3. Compliance requirements, backup power and optical features studies
Is S4GA solar AFL compliant with international aviation standards on photometric, jet blast resistance, backup power supply, and other requirements? A detailed compliance study is given in this part of the Report.
4. Other risks studied
One of the major risk as an airport operator is looking for availability of spares for the next 10 years. How does it work with S4GA – covered in this paragraph.
5. ALCMS
The most critical and useful features of S4GA ALCMS – Airfield Lighting Control and Monitoring System – are described in this part.
6. Savings in cost looked at Project Cost and Maintenance Cost
A comparison of operational & maintenance costs between conventional RWY lighting and S4GA solar lighting is given in this part of the Report.
7. Serviceability vs. Availability vs. Continuous Improvement
In this part, the author provides a score of S4GA solar system by using MTBF, MTTR and other indexes identifying serviceability, availability and continuous improvement of airfield lighting system.
8. Green energy and hence CO2 reduction achieved
In the last part of the Report, the Author analyzes energy consumption and carbon impact of conventional AFL and S4GA solar lighting.
About the Author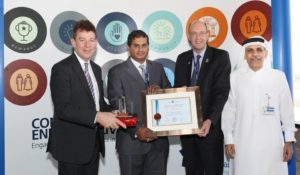 Dr. Prem Tennyson, BEng, PMP, ITIL V3 & six sigma certified core professional is a 18+ years experienced Airport Systems, IT and industrial control systems automation specialist who has worked with major airports and aviation companies such as GCC Federal Aviation, Dubai Airports, Oman Airports, Emirates Airlines etc. His report during his testing of AGL lights for several international and domestic airports is addressed hereby to cater the understanding of live study of S4GA systems and associated solar AGL lighting.
His major specializations and experience include in project as well as maintenance management of highly critical airport systems such as Airfield Lighting, Visual Docking Guidance Systems, Baggage Handling Systems, Ground Power Units, Pre-Conditioned Air Units, Passenger Boarding Bridges, Apron Flood Lighting and VHT Systems.
He is a master integrator of the above-mentioned airport systems. With his skill in Airport systems, IT, industrial control systems, he has prolific outputs in the related projects and maintenance management areas.
Innovative outputs displayed by him are displayed by his number of proud awards he has received for performance excellence from his employers amassing 14 professional awards particularly for innovative management of the airport systems and associated systems.
He has worked closely in Airport systems projects and maintenance management teams of Dubai, Al Maktoum International, Muscat International, Salalah International Airports and several other federal government and Gulf Country Airports.
The author has been a prolific AGL and Airport Systems speaker and has been an expert guest speaker in many of AGL conferences and other related conferences to Airport systems which are related to Visual Docking Guidance System, Baggage Handling, Airfield Pavement Engineering and other areas as well pertaining to Airport readiness, ICAO, FAA compliance to Airfield etc.
Download the Report on Reliability of S4GA Solar Airfield Lighting by clicking this link.
S4GA Useful Links
S4GA Compliance with Civil Aviation Regulations – download the document
How can S4GA runway lighting operate 365 days a year on solar energy? – watch video
Airport sustainability: global trends and S4GA impact – read this article
S4GA Online Academy: the first free online course dedicated to solar airfield lighting – learn more and register.
Contact S4GA