S4GA Office is Closing for Christmas Holidays 18 December – 3 January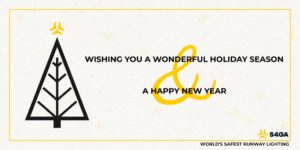 *************************************************
The outgoing year has challenged us all in so many different ways both in personal and professional life. The aviation industry had to overcome many difficulties and face the new, harsh reality caused by the pandemic.
In this challenging year, we couldn't be more thankful to our partners and customers for the great support! We wish the New Year 2021 will bring You and Your family nothing but satisfaction, warm trustful relationships and wealth.
To enjoy this holiday time with our friends and families, S4GA office will be closed from 18th of December to 3rd of January.
We wish You happy holidays and looking forward to seeing You again in 2021!
With appreciation,
Your S4GA Team
*************************************************