Brazil: Regional Airport testing Solar Airfield Lighting under S4GA FREE Trial Program
Faced with difficulties installing traditional runway cable lighting, a Brazilian airport turned to modern lighting techniques. However, high levels of cloud cover posed a challenge for solar-powered airfield lighting. To address this concern, the airport joined S4GA's Free Trial Program to assess the reliability of solar lighting.
feasibility study
The solar feasibility study conducted as part of the S4GA FREE Trial Program in Brazil aimed to determine the optimal operating hours for the solar airfield lighting at the selected intensity level, ensuring its reliable and uninterrupted performance.
Based on the study's findings, the solar AGL system can operate safely for up to 24 hours a day at 30% levels of intensity without any risk of power outages or drained batteries, providing a dependable and sustainable lighting solution for the airport.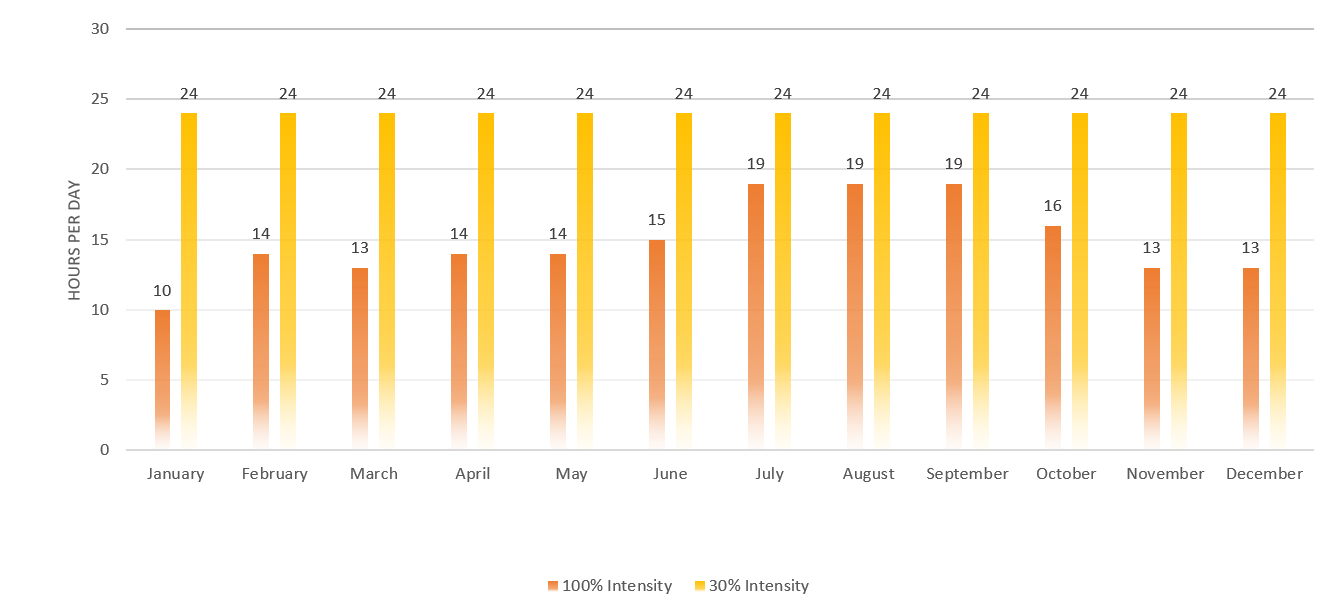 The feasibility study utilized the PVGIS system, which is an EU-approved online tool that employs satellite-based solar historical data to simulate the performance of solar-powered equipment in a specific location!
On-site testing
During the trial period from 02.01.2023 to 14.01.2023, the weather was unfavorable, with intermittent rain and cloudy skies (the average level of cloud cover was almost 70%). Despite this, the S4GA Solar Airfield Lighting managed to operate smoothly, providing the necessary lighting to ensure safe landings and take-offs.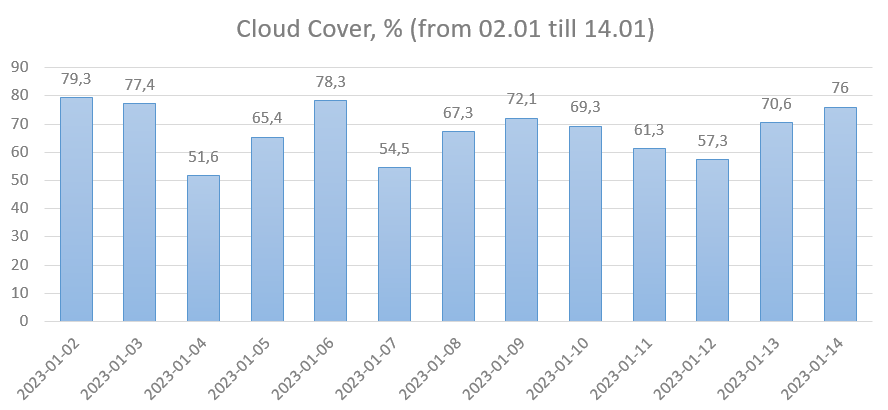 During S4GA FREE Trial in Brazil, all lights have been tested in dusk-to-dawn mode. Runway and Threshold-End Lights have been activated for 230 hrs in total during 13 days of the trial period (on average for 18 hrs a day). Taxiway Edge Light was activated for 302 hrs (on average 23 hrs/day).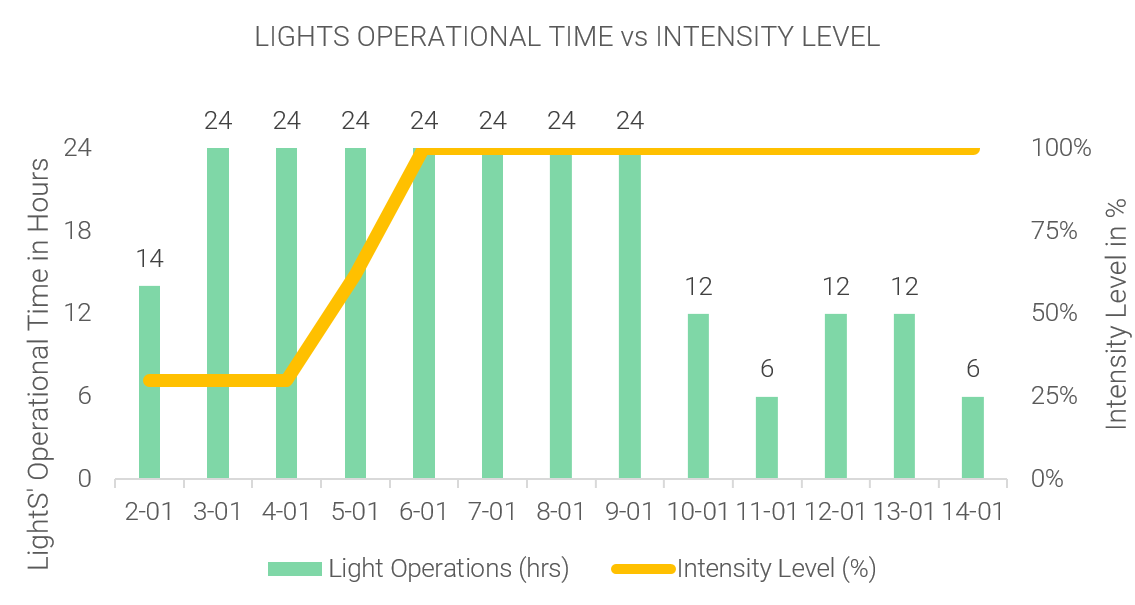 During the trial period battery level of every light is monitored. Battery level is measured every time when it changes for min 1%. Every hour measured battery levels are transferred from Control and Monitoring Unit to the S4GA server for analysis.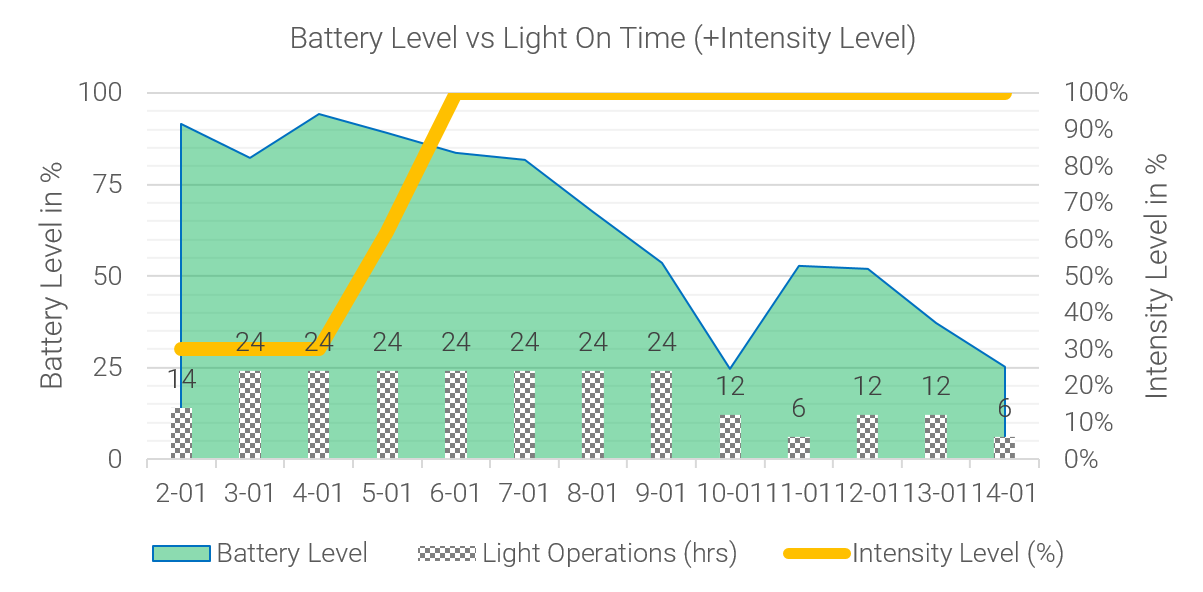 CONCLUSIONS
Throughout the entire test period, the airport required lighting for 24 hours a day. Despite this high demand, the solar-powered lamps provided sufficient illumination for the airport's needs.
All lights have successfully passed solar autonomy test;
All lights have exceeded the maximum simulated duration: The real duration of operations was 75% higher than the maximum simulated one; Average daily time when the light was activated was 18 hrs/day for runway lights and 23 hrs/day for taxiway light;
During S4GA FREE Trial in Brazil, 65-70% of the time runway lights were activated at 100% (maximum) intensity level.
would you like to join S4GA FREE TRIAL PROGRAM?
Enroll in the S4GA free trial program today to explore a sustainable and dependable solution to power your airfield lighting. With our advanced solar-powered lighting systems, you can guarantee seamless operations and enhance safety for pilots.
Participating in this program offers you the opportunity to experience our state-of-the-art technology firsthand and witness the results for yourself. Don't let go of this chance to transform your airport's lighting system. Register now and discover the advantages of solar autonomy!
Register Now