Airfield Lighting for Mining Industry: S4GA at Petroserv 2019
Complete solar airport lighting – designed to operate 365 days on solar energy with minimum maintenance – was presented for oil, gas and mining companies by S4GA local partner – BEN AERO – at PetroServ Trade Show in Tunisia.
Solar Runway Lighting for Mining Companies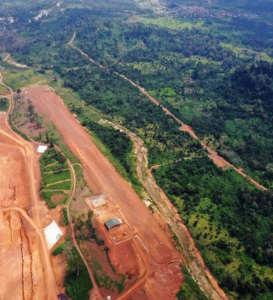 For companies doing business in mining industry and running airfields as a way to transport people to and from the site, S4GA offers complete airfield lighting system designed to work on a permanent basis in the most extreme weather conditions.
S4GA solar runway lights are the best solution for remote locations like African desert, where runway is used occasionally but illumination is still required. For such airfields, traditional runway lighting powered by 6.6A electrical grid is not efficient: it requires advanced maintenance and AGL system itself is comparatively expensive. Moreover, hard-wired runway lighting requires reliable MAINS power supply which might be problematic for airfields located in remote places. Backup power supply is required for such runway lighting which also increases the total cost of AGL (airfield ground lighting) project.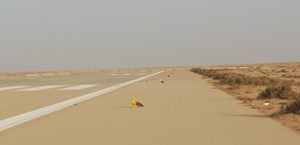 S4GA solar runway lighting is as simple as reliable, in the meantime compliant with international aviation regulations. Solar AGL consists of airfield lighting units and control system (ALCMS) connected with each other via wireless mesh network. No cables or other electrical infrastructure required to make it operate. Every lighting unit is powered by individual built-in power bank and energized by an individual solar panel. Simple maintenance is about to clean solar panels regularly and replace batteries once in 4-5 years.
Another great feature of S4GA solar runway lighting is individual light monitoring. If any of airfield lights have low battery level or the light does not respond (broken, stolen, out of runway, etc.) – airport personnel is notified about that by SMS. In this case, engineers know where exactly the problem is. All you need is to get the lamp out of runway (it will not affect all the rest of the lights on a runway), fix the problem and put the lamp in place.
PetroServ: Place for Modern Technologies in Mining Industry
S4GA solar airfield lighting solution was presented by its local partner BEN AERO at Petroserv 2019. The Trade Show was hosted in Tunisia on 23-26 April 2019. It is one of the biggest global events dedicated to mining industry. The event gathers in one place suppliers, manufacturers, mining companies management, industry professionals not only from Africa but all over the World.
BEN AERO Aviation Solutions – a Tunisian supplier of airport equipment – presented S4GA solar lighting for mining companies at Petroserv. The company has projects in Tunisia, Algeria, Libya, Morocco, and other African countries. BEN AERO represents S4GA brand on the Tunisian market.
Check S4GA solar airfield ground lighting for oil, gas and mining industries
Read more