Solar Airfield Lighting for Regional Airport in Uzbekistan
S4GA solar airfield lighting system has been installed at a regional airport in Uzbekistan. The system is used by the airport as primary runway illumination at daytime and for night flight operations.
Photos of Solar Airfield Lighting in Uzbekistan
Developing Tourism In the Region
Civil airport is located in the western part of Uzbekistan. It serves as a regional air transport hub for domestic flights. In recent years the government decided to grow tourism in the region. Transport infrastructure development was the very first stage. Because of remote location, the fastest and the most suitable way to transfer people to the place is air transport. Thus, airport upgrade was on the first priority.
Solar Airfield Lighting for Uzbekistan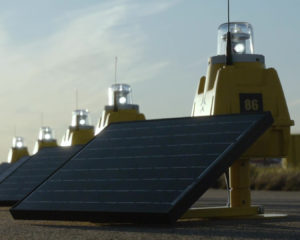 In order to operate 365 days a year, the airport had to install runway illumination. Traditional wired airfield lighting did not fit due to unavailable electrical infrastructure in the region. As an alternative solution, the airport considered portable battery-powered lights available on the market. However, this option was not optimal because portable lights require recharging from time to time. It means, once in few days somebody should take away all lights from the runway, recharge, and put them back.
The third solution offered to the airport was a simple solar runway lighting.  The systems included solar runway lights, solar threshold lights, solar PAPI, and a handheld controller for remote activation of the lights. S4GA system does not require any electrical infrastructure – it is powered 100% by solar energy. S4GA airfield lights are designed for permanent usage, therefore no recharging required. Due to rapid solar charging technology used in S4GA lights, the system is always ready to use. And, the airport is always available for flight operations.
Watch Video on Youtube: Solar Runway Lights at Night
Why Solar AGL is the best option for Asian airports?
S4GA airfield lighting systems have been installed in more than 45 countries all over the World. However, current regional airport is the first airport in Uzbekistan equipped with solar-powered AGL. The advantages of solar runway illumination for Central Asian airports are the following:
Availability 365 days a year. Solar energy in Central Asia is sufficient to keep S4GA systems fully charged by solar energy
Fast & easy installation. S4GA solar lighting does not require any trenching works for an electrical network. Lighting fixtures are connected wirelessly. The power source is inside each light. Therefore, all the installation is above the ground.
Simple maintenance. Replacing the batteries once in 2-3 years, and cleaning solar panels once in few weeks – are the only two maintenance procedures required for solar airfield lights. Both battery replacement and cleaning solar panels can be performed by airport personnel or local contractor.
Contact us for more information about S4GA Solar Airfield Lighting.
Contact S4GA