Runway Threshold Lights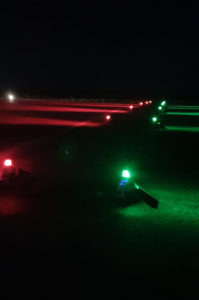 Runway threshold lights are green color omnidirectional (or unidirectional) airfield lights installed on the beginning (threshold) of a runway in one line. They allow a pilot to identify where he should start landing. The color, intensity and layout of the lights are strictly determined by the regulation of the ICAO (the International Civil Aviation Organization), Annex 14. Intervals between the lights and it's quantity depends on runway category.
Instead of runway threshold lights, wing bar lights can be installed on the runway. They are also green color airfield lights, however, placed in different location and with different intervals rather than threshold lights.
Solar Threshold Lights
Solar threshold lights are powered by solar energy. Today, solar runway threshold lights are used as a part of a complete permanent solar airfield lighting system. They are equipped with energy efficient LED optics providing correct green light in terms of photometric and chromaticity.
Solar Runway Threshold End Lights
Runway threshold end lights are bidirectional reg-green airfield lights that indicate runway beginning and runway end simultaneously. During landing, pilot sees the green direction of the light which provides him with signal 'here you can start landing'. During takeoff, the pilot will see the same lights but from red direction which tells him 'here you should end takeoff'.
Solar runway threshold end lights are powered by solar panels which makes them 100% autonomous from the electrical grid. Today regional and domestic airports widely use bidirectional red-green lights. In case the runway has displaced threshold, beginning and end of a runway are located in different places. In such a situation, separate green and red lights are used.
Displaced Threshold Lights
A displace threshold or DTHR is a runway threshold located in a different place than a runway's actual beginning or end. It occurs most often in places with obstructions that hinder a safe conduct of flight operations. Also, it is installed in order to minimize the noise. A displaced threshold is marked with edge lights.
Threshold lighting in airport
Threshold lighting in airport are to be found at the same place runway edge lights are placed. The exceptions are non-instrument runways and non-precision approach category I runways (which will be discussed below), and wing bar lights. Threshold lights are installed symmetrically on both sides of a runway centerline. They are installed no more than 3 meters behind the end of a runway, in the threshold line.
Threshold lights and a runway category
When it comes to non-instrument runways and non-precision approach category I runways, the number of threshold lights is dependent on their even layout in-between edge lights. As for precision approach category I and II runways, threshold lights are installed at 3-meter intervals. These lights are green and uni-directional.
Runway End Lights, End of Runway Lights
Runway End Lights are green in an area an aircraft starts landing. In turn, they are red in an area an aircraft should finish landing operations. These lights are installed in the same binding threshold lights are put in. Thanks to the light, it is easier for a pilot to identify both the beginning and end of a runway – especially if it is hard to distinguish a runway from the background, e.g. when surrounded by other lights.
Runway End Identifier Lights
Runway End Identifier Lights (REIL) that are put on both sides of a runway constitute an additional help for a pilot. They are installed about 10 meters away from edge lights. These are two lights that give out synchronic flashes; the intensity is from 60 to 120 flashes per minute. Their light is omnidirectional or in the direction of a runway. The ICAO regulations recommend using runway end identifier light mainly at non-instrument runways and in the case of a displaced threshold. Ask us about "runway threshold identification lights".
Stopway Lights
Stopway is an area at the end of a runway that is used by an aircraft to stop in the event of an interrupted take-off. The lights (stopway lights) that designate that area are turned on in tandem with runway lights. They give out a one-direction light and their layout is the same as that of runway edge lights. The color of lights is red.