Runway Edge Lights
Runway Edge lights are airfield lights installed on the edges of a runway with a minimum 60 m distance between the lights (required by ICAO Annex 14 regulations). Runway edge lights help a pilot to identify a runway and land or take off safely. Depending on runway category and airport equipment level, runway lights will have a different color on particular parts of runway edges.
solar Runway Edge LIghts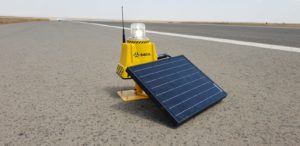 Solar runway edge lights are elevated runway lights powered by solar panels. Traditionally, runway lights are powered by 6.6A electrical grid. Not so long time ago, solar powered runway lights were only used as backup or temporary lighting. However, thanks to the development of LED lightbulbs, using more powerful batteries and providing AGL monitoring, solar runway lighting systems are successfully used today as a permanent lighting solution for airport. Solar runway edge lights have been already installed at regional and domestic airports in Africa, Caribbean, Oceania, and other regions.
Layout of runways edge
Runways edges are illuminated in such a way that supports a landing or taking off pilot as much as possible. Particular edge lights are installed symmetrically with a runway centerline, no further than 3 meters away from a runway edge. When it comes to an instrument runway, the lights will be installed at 60-meter intervals. As for a non-instrument runway, the intervals equal up to 100 meters.
Color of runway Edge Lights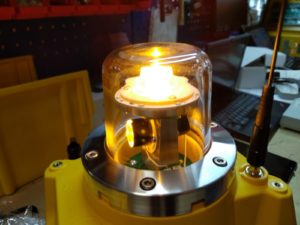 Runway Edge Lights give out a white, constant light. However, at instrument runways, yellow lights are installed for the last 600 meters of a runway (of in the midpoint of a runway, it depends on which distance is shorter). They inform about approaching the end of a runway. It should be added that sometimes there is a need for a displaced threshold – e.g. if the pavement gets damaged and it causes a threat to aircraft operations. In that case, red edge lights that precede the threshold are installed.
Intensity of Runway Edge Lights
The intensity of runway edge lights reaches from 50 to 10 000 cd (candelas). To illuminate runway edges, the following light intensity levels are used: Low-Intensity Runway Lights (LIRL), Medium-Intensity Runway Lights (MIRL) and High-Intensity Runway Lights (HIRL).
S4GA offers LIRL and MIRL solar runway edge lights; S4GA is the only company in the World offering certified solar HIRL light with 10.000 cd light output.
Hard-Wired Runway lighting or solar Runway lighting?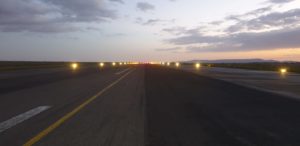 Solar runway lighting brings a broad spectrum of advantages. First of all, it allows for significant spending cuts. Secondly, such lighting is controlled wirelessly so there is no need to build a complex network. An additional asset of solar runway lighting is the fact that it is amazingly cheap and simple to maintain. One doesn't need to hire special personnel for the maintenance and fixing works. Malfunctions can be quickly identified and most of them can be fixed by oneself.
Watch this movie to better understand differences between wired and S4GA solar runway lighting