How To Keep Airport Operational During Runway Rehabilitation Works?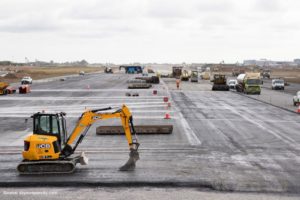 Runway rehabilitation is the case of safety. Runway is one of the key airport infrastructure elements that determines the safety of airport flight operations. Runways should be built in accordance with international aviation regulations and meet aviation standards. That's why there are numerous companies involved in the runway construction process. From the very preliminary stage, there are airport consultants, airport planners and designers, contractors, engineers, and local governments involved in the process. Hundreds of aviation professionals, billions of dollars, and months (or even years) of hard work are being spent with one single aim – to build a reliable, safe-to-land, and long-lasting runway.
What is Runway Rehabilitation?
However, no runway can last forever without maintenance. How sophisticated the runway is, it requires repairs after some time. More aircraft landings and takeoffs – sooner runway pavement becomes damaged. Runway markings become erased. Airfield lighting system requires replacing of old unreliable elements as well. Sooner or later, every runway achieves its stage of runway rehabilitation works.
Runway rehabilitation is a process of renovation, or complete replacing of damaged, broken, or unreliable elements of a runway such as
runway pavement
airfield ground lighting
runway signs and markings
Runway rehabilitation is usually a time-consuming and quite expensive process. There is a detailed runway rehabilitation plan with a scope of work, budgets, and deadlines created. And, the same story begins: consultants, contractors, engineers, and other parties are being involved. Often, the process includes tendering, supply, installation, and commissioning. The last two stages might take from few weeks to few months. Airport has to close its main runway for all flight operations until rehabilitation works are finished.
What Happens with Airport During RWY Rehabilitation Works?
For the airport, closing the main runway for 6-12 months means the loss of one-year profit. For regional airports serving domestic flights and having a couple of flight ops per day, runway closing is a problem. For an international airport with a busy flight schedule – it's an unacceptable case. Of course, all flights can be temporarily redirected to the nearest airport. However, none wants to lose money. Airport starts looking for alternative options.
How to Keep Airport operational During Runway Rehabilitation?
To keep continuous flight operations, airport uses a backup runway (or contingency runway). If the airport has two runways, the second runway is used as a contingency runway. If there is only one runway, airport can temporarily convert its parallel taxiway to a runway.  In both cases, backup runway should be illuminated with the lights, reliable and compliant with ICAO regulations.
S4GA offers a complete certified solar runway lighting as s backup solution for international airports during runway rehabilitation works. The system works continuously 365 days a year on solar energy. Once installed on the airfield, the lights will keep runway operational until rehabilitation works are completed.
Get a quote
Converting Taxiway to a Contingency runway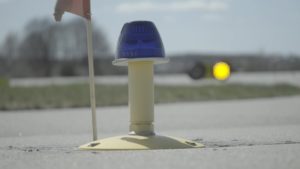 International airports are usually equipped with at least one main taxiway located parallel to the main runway. Few additional taxiways connect them. It is a common airfield layout for an international airport due to its simplicity and effectiveness. In the meantime, parallel taxiway secures airport continuous flight operations in emergency situations when the main runway becomes unavailable for some reasons.
During runway rehabilitation works, parallel taxiway is used as a contingency runway. Converting taxiway to a runway requires appropriate marking and illumination. For illumination, a backup runway lighting is used. Temporary runway edge lights (white color aviation lights) are installed next to every conventional taxiway light (blue color taxiway light). During aircraft landing or takeoff, white runway lights are activated while conventional blue color taxiway lights are turned off.  Pilot identifies white runway lights and can safely land aircraft. The basic scheme of converting taxiway to a contingency runway is given below.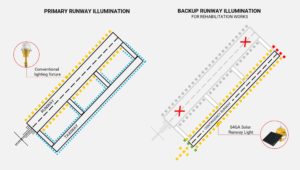 Converting taxiway to a runway is a common practice for airports doing runway rehabilitation works. Thessaloniki Airport – (ICAO: LGTS)  the third busiest international airport in Greece – installed solar runway lights as temporary lighting on its taxiway during rehabilitation works on their main runway. S4GA solar AGL allows Thessaloniki Airport to keep continuous flight operations 24/7. The lighting system operates permanently on solar energy and does not require any additional charging. Learn more about Thessaloniki Airport case study by visiting this page.
S4GA Solar lighting as a Backup Solution for Contingency Runways
S4GA solar runway lighting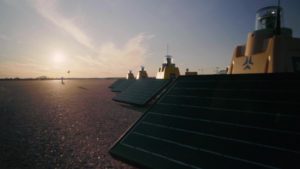 is designed as a permanent AGL system for non-precision runways located in regions with unreliable electrical infrastructure. In the meantime, it is a perfect backup solution for international airports doing runway rehabilitation works:
S4GA solar runway lighting is certified and compliant with ICAO Annex 14 and Aerodrome Design Manual
Available 365 days a year: the system operates on solar energy
Fast installation and close to zero maintenance cost
S4GA runway lighting has 5-level protection against system failure. Traditional conventional AGL systems installed on the busiest airports in the World – have maximum 3 levels. Thus, S4GA lighting is even more reliable that wired airfield lighting powered by 6.6A electrical grid.
Remote activation and control of solar runway lighting are available via ALCMS installed at the TWR, handheld controller or even from the cell phone. The lights are connected with ALCMS and with each other via wireless mesh type network (each light is a repeater). In the worst scenario – if wireless network is unavailable for some reasons – every S4GA lighting unit is equipped with emergency ON/OFF button. Thus, S4GA system is always under control. Contact us to learn more about S4GA solar-powered backup runway lighting.
Get a quote