S4GA at Inter Airport Europe 2021: Trade Fair Outcome
S4GA has successfully attended inter airport Europe 2021 – a top event for the entire airport industry taking place in Munich, Germany – gathering aviation professionals from all over the World.
On 9-12 November 2021, S4GA Team presented its World's Safest Runway Lighting.
With this special event, we couldn't imagine a better opportunity to present you our new and upgraded products! Therefore a lot has happened at our stand:
Great premiere of our new LED PAPI – fully certified and compliant with ICAO, EASA, FAA requirements.
Presentation of our upgraded ALCMS – Airfield Lighting and Control Monitoring system, that allows monitoring the current status of the entire system, as well as EVERY SINGLE LIGHT.

Introduction to our

 Solar LED High-Intensity Threshold End Light – designed for permanent usage at Civil and Military Airports located in regions with NO access to electricity.
S4GA at INTER AIRPORT GREENER AND CLEANER SOLUTIONS SEMINAR
At LIVE Seminar Stage of inter airport Europe 2021, Dmytro Kuczeruk and Lukas Kornacki explained how to check if solar runway lighting is a viable solution for your airport,  and how to correctly evaluate the feasibility of a solar system.
During the seminar our Team answered a lot of questions, among others: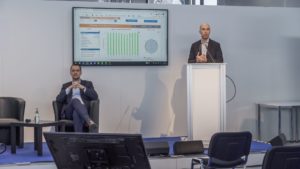 ➡ Is Solar AGL right for my airport?
➡ How to correctly evaluate the suitability of a Solar AGL for a project?
➡ How to be sure Solar AGL will be a long-term viable system for my airport?
The video of S4Ga lecture will be available on our  Youtube channel soon.
Integrators about Solar Airfield Lighting
During inter airport Europe 2021 S4GA team had a great opportunity to meet with our current and potential partners, customers, airport engineers and consultants from all over the World. It was a great joy to present S4GA solutions to our visitors, address the questions, and get their opinion on solar airfield lighting.
During the event, we discussed with experienced professionals working on AFL market for decades. They shared their practice with airfield lighting systems. We talked about advantages and concerns related to solar airfield lighting. We believe that such discussions are very important as this is the best way to get feedback from AGL end-users – airports. It allows airport lighting companies – such as S4GA – to improve its products and deliver the right solutions.
Interviews will be available on S4GA Youtube channel soon.
Follow us on Linkedin to stay updated with solar AGL news!
Follow S4GA on LinkedIn