S4GA Solar Airfield Lighting for Campbeltown Airport in Scotland
S4GA supplied Solar Airfield Lighting to Campbeltown Airport in Scotland, which is operated by Highlands and Islands Airports Limited (HIAL). The system is used by the Airport as primary runway illumination during daytime and for night flight operations. The contract was executed by Dewhurst Airfield Services Ltd.
s4ga Solar Airfield Lighting at
Campbeltown

 Airport – Video
solar Airfield Lights at SCOTTISH airport
Campbeltown Airport is located at Machrihanish, 5.6 km west of Campbeltown, near the tip of the Kintyre peninsula in Argyll and Bute on the west coast of Scotland. It has a CAA Licence that allows flights for the public transport of passengers, and for flying instruction as authorized by the licensee.
Originally built in 1962, the runway at Campbeltown Airport was showing signs of deterioration.  This resulted in the runway being restricted to aircraft below 6.85 tonnes in weight to preserve it for essential medical, lifeline, and emergency services.  
With significant investment from HIAL, the airport began a runway refurbishment project in 2021. One of the required upgrades of the renovation project was the installation of a new airfield lighting system.  The system would be required to withstand extreme Scottish weather conditions while meeting the requirements of the regulatory body.
After careful consideration, the S4GA Solar Permanent Runway Lighting was confirmed as the preferred option.
Solar Airfield Lighting at
Campbeltown

 Airport – Photos
s4ga solar Lighting – A GOOD fit for a Scottish airport
S4GA solar airfield lighting was a good fit for the Scottish Airport and met the requirements outlined in the project brief:
Operates 365 days a year on solar energy

Fast and easy installation

Suitable to the harsh Scottish environment (such as limited solar potential, low temperatures)

Simple maintenance that can be performed by the airport personnel

Compliant with ICAO, EASA requirements
s4ga ALCMS for Campbeltown airport
The SG4A ALCMS was installed at Campbeltown Airport alongside the S4GA solar technology. S4GA ALCMS is an Airfield Lighting Control and Monitoring System designed to provide full remote control and monitoring of solar LED runway lighting from the TWR or maintenance room. It consists of Computer Interface integrated into UR-201 Control and Monitoring Unit.
S4GA ALCMS CONTROL KEY Functions
Grouping of entire airfield lighting into 3 major groups

Control of the entire lighting system and groups of lights


5-step intensity level setup for a particular group of runway lights

 and PAPI (5 steps: 3, 5, 10, 30, 100%)

Operating modes setup: Visible, NVG, Remote, Autonomus)

Timer setup (for VHF-activated and GSM-activated modes)
S4GA ALCMS Monitoring KEY features
Individual light Status Monitoring – includes such parameters of light as: battery level, charging speed, temperature, operating status, etc.

Monitoring of UR-201 Control unit status

The preventive Maintenance function allows for planning maintenance works for individual equipment items (ie. battery replacement, solar panel cleaning, etc.)
Moreover, ALCMS installed by the Campbeltown Airport allows the monitoring and collecting of light information by S4GA headquarters in Poland. Thanks to this unique feature of our Airfield Lights Control and Monitoring System, our Team can not only provide up-to-date technical support but also by collecting lights data we are able to constantly improve our system and bring solar airfield lighting solutions to the next level.
Get a quote
S4GA UPS at Campbeltown Airport
The Scottish Airport will also benefit from using S4GA UPS – Uninterruptible Power Supply for PAPI. The solution will be used as a backup power source to power S4GA portable PAPI / A-PAPI systems. It is applicable for LED and halogen precision approach path indicators.
FEATURES

For halogen and LED type PAPI systems

Provides up to 15 hrs of PAPI autonomy

Battery power monitoring function

Compliant with international standards
UR-3 
PAPI CONTROLLER CONVERTER FOR Scottish AIRPORT
Additionally to the installation of the Solar Permanent Airfield Lighting System, Cambeltown Airport decided to use S4GA Solar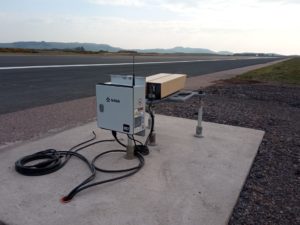 Engine to supply electricity to their existing, halogen Precision Approach Path Indicator units. It was possible thanks to S4GA  UR-3 PAPI Controller-Converter.
UR-3 Controller-Converter provides the ability to power PAPI using a standard 230 VAC electrical supply. By using the Converter there is no need for a costly 6.6A grid, powered by a constant current regulator.
Moreover, adding UR-3 to S4GA PAPI allows users to remotely control and change the intensity of PAPI via UR-201 Control & Monitoring Unit and UR-101 Handheld Controller. 
s4ga Solar Airfield Lighting at
Campbeltown

 Airport – Video