Portable Helipad TLOF lights for No. 1 Danish Toy Maker
S4GA has delivered portable Helipad TLOF lights to a well-known toy manufacturer from Denmark.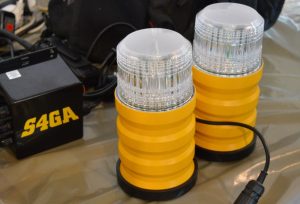 SP-102 portable helipad lights are ICAO compliant airfield lights designed to operate in remote areas. LED optics generates correct light output in terms of intensity and chromaticity. SP-102 airfield light is powered by a standard deep-cycle battery that can be stored locally.
What makes s4ga lights the best choice?
What distinguishes S4GA heliport lights from products of other helipad lighting suppliers is unique LED optics allowing to achieve the highest visibility range in its class – up to 10 km. It is critical for pilots when landing in adverse weather conditions like fog or heavy rain. Moreover, aluminium body and UV-resistant polycarbonate dome protect helipad light from deterioration.
KEY FEATURES
Supports Visual & NVG operations
Adjustable intensity level
Multiple operating modes
Quick & Easy Deployment
Non-corrosive aluminum body
IP-65 waterproof rating
User-replaceable battery
Interchangeable optical head