Dhaalu Airport on Maldives Installed S4GA Solar Airfield Lighting
S4GA has delivered Solar Airfield Ground Lighting for newly built Dhaalu Airport (Maldives). S4GA lighting has been approved by Maldivian Civil Aviation Authority.
OVERVIEW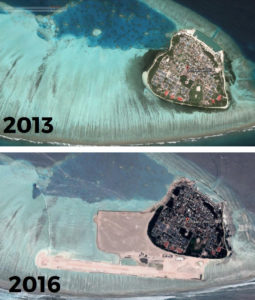 Dhaalu Airport, located in Kudahuvadhoo Island (Maldives), is state of art, brand new category 3C domestic airport with 1800 meter runway with a modern terminal. The airport is designed to accommodate DASH-8, ATR –72 & 42 Aircraft, and private jets. The airport was developed by reclaiming land from the Dhaalu Kudahuvadhoo lagoon and according to local news sources, approximately USD 20 million were invested in the project.
CHALLENGE
Airport managing company has been working toward design of conventional lighting system with one of Maldivian engineering companies. After design phase has been accomplished it turned out that valuation of the system significantly exceeded airport budget planned for AGL. In order to find more affordable solution airport started looking for alternatives.
SOLUTION
One of the inquiries has been sent to S4GA company which responded with an offer to supply solar-powered airfield ground lighting to Dhaalu Airport:
Budget required for complete solar AGL system was few times less than for conventional lighting
Simple installation could be performed by airport personnel
Dhaalu Airport is located on a remote island where electricity can only be produced by diesel generator which is expensive and not eco-friendly. S4GA solar runway lighting operates 365 days on solar energy independently from electrical grid.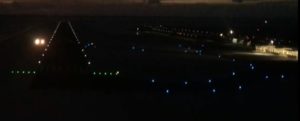 After some internal discussions and consultations with reputable AGL engineers, Dhaalu Airport has decided to choose S4GA solar LED airfield lighting instead of a traditional hard-wired runway lighting system.
S4GA supplied World's Safest Runway Lighting – a complete permanent solar LED airfield lighting system that included: runway lights, taxiway lights, airport lighting control and monitoring system (ALCMS). Crucial element of the system has been requirement to install Precision Approach Path Indicator (PAPI). S4GA has designed and supplied airport with solar PAPI lights integrated with AGL control system. Solar PAPI can be remotely controlled using S4GA ALCMS.
S4GA SOLAR LIGHTING APPROVED BY MALDIVIAL CAA
S4GA has provided all the required certificates and technical specifications to local CAA. Together with airport's engineers, S4GA has managed to address concerns of CAA technical department and after some time S4GA solar runway lighting has been approved by Maldivian CAA.
first commercial flight
ARRIVAL AND DEPARTURE OF THE FIRST COMMERCIAL FLIGHT – DHAALU AIRPORT

Publiée par Dhaalu Airport sur Jeudi 29 juin 2017