Online Webinar: ICAO Compliance of Solar Runway Lights
On 22nd of April, S4GA will host a free online webinar dedicated to solar runway lighting. This time, we will speak about one of the most frequently discussed topics among AGL professionals and aviation consultants – ICAO compliance of solar runway lights as permanent AGL system for a commercial airport.
---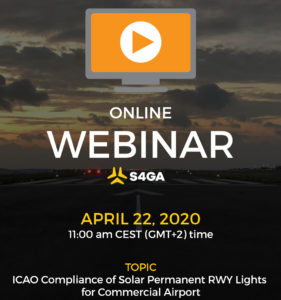 Date & Time: 22 April 2020 at 11:00 am CEST (GMT+2) time
Topic: ICAO Compliance of Solar Permanent RWY Lights for Commercial Airport
---
During the Webinar we will discuss:
What are the key ICAO Annex 14 norms taken into consideration when choosing runway lighting?
What are ICAO regulations regarding solar-powered AGL systems?
Is S4GA solar RWY lighting compliant with ICAO Annex 14? Is it certified?
How do we test our runway lights on ICAO compliance?
Are S4GA solar RWY lights applicable for permanent usage at Commercial Airport?
How to Join the Webinar ?
Fill in a short registration form and we will send Webinar link to your email address.
Watch the webinar on Youtube