How Solar Airfield Lighting Works: S4GA Meeting in Kenya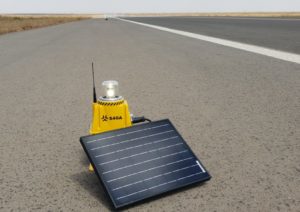 Solar airport lighting is the best solution for regional and domestic airports in Africa. It does not require electrical grid to operate and can be installed even in the most remote places. For Africa, where the cost of electricity is extremely high and electrical supply is not reliable, the advantages of solar runway lighting are obvious and undisputable.
S4GA moved forward with its solar AGL by introducing World's Safest Runway Lighting – the system that operates 365 days on solar energy and has 5-level protection against system failure. But, how to maintain such a system? Are there any special rules for the installation of solar runway lighting? Finally, why is it 'the safest'?
Solar Runway Lighting explained
In order to address these questions and explain how solar AGL works, S4GA visited Kenya and provided a 4-day product presentation for the key aviation experts in the country. Together with its local partner – KAPS – S4GA team introduced and explained all main technical aspects of solar AGL to engineers, customers and consultants from Kenya Airports Authority. During the meetings, the following topics were covered:
What is solar airfield lighting?
How S4GA lighting can operate 365 days on solar energy only?
What are the critical failures of hard-wired runway lighting and how S4GA covers them with 5-levels of protection?
How to maintain solar airfield lighting?
During seminars, Kenyan engineers not only received theoretical knowledge about solar airport lighting system. They had an opportunity to assemble S4GA lights, check functionality, and do its basic maintenance.
solar aGL for airports in Kenya
The results of the meetings were more than positive. After discussions with S4GA and product presentation, Kenyan engineers understood and agreed about the advantages of using solar runway lighting. Next steps in cooperation have been set up. Very likely that Kenyan airports will soon use solar AGL as permanent lighting following Ethiopian practice with Jijiga Airport.
Contact us to request the meeting with S4GA or follow us on socials to keep updated with Company news and events.
Webinar in September: Solar Runway Lighting
S4GA will speak about World's Safest Runway Lighting during free online webinar in September 2019. Register for Webinar NOW and join our discussions.
REGISTER FOR WEBINAR