DefenceWeb: S4GA Provides Lighting for North African Airbase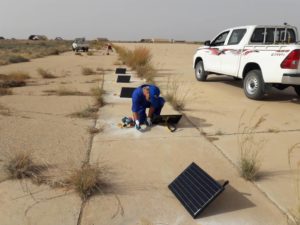 Airfield lighting specialist S4GA has recently completed a project in North Africa for solar lighting at a remote military airbase.
S4GA said the installation was carried out in May 2019 and saw the installation of a complete permanent solar airfield lighting system, the second project S4GA has done for the customer.
In 2015 S4GA delivered a solar airfield lighting system to another airbase, with a 3 000 m runway, under a contract with a local construction company and as the customer was satisfied with the products, it opted for a repeat order.
The customer needed an airfield lighting system to be installed within four weeks. "Traditional hard-wired runway lighting is impossible to install in such a short period of time. Thus, the customer started looking for alternative solutions," S4GA said.
"Another challenge was lack of reliable constant power supply in the region. For airports, it means sudden interruptions in airfield lighting work and acquisition of additional power generators to secure such interruptions."
Source: DefenceWeb
Read full article