Campbeltown Airport Goes Solar With S4GA Airfield Lighting
S4GA has been awarded the contract to supply Campbeltown Airport in Scotland with a complete Solar Airfield Lighting Solution. The system will be used at the Scottish Airport on a permanent basis. 
Campbeltown airport ready for the solar upgrade
Campbeltown Airport is located at Machrihanish, 5.6 km west of Campbeltown, near the tip of the Kintyre peninsula in Argyll and Bute on the west coast of Scotland. It has a CAA Licence that allows flights for the public transport of passengers, and for flying instruction as authorized by the licensee. 
The airport operator – Highlands and Islands Airports Limited (HIAL), has recently invested £4m into the new runway refurbishment, as at almost 60 years old, the runway has been showing signs of deterioration limiting the airport safety and operations. Due to its damage, the runway use is highly restricted to preserve the facility for medical, lifeline, and emergency services.
John Lamont, Campbeltown Airport manager, believes this is the right time for refurbishment, as "another winter would only see the runway deteriorate further".↑
The runway reconstruction is expected to protect the future of the site and ensure lifeline and commercial services can continue to operate. 
S4GA Solar Airfield Lighting has been chosen as the best fit for the new, refurbished runway.
How will THE Scottish Airport benefit from S4GA Solar Runway Lighting?
In choosing the new airfield lighting system, the Airport Authority considered a few key factors indicating S4GA the leader with advanced solar technology: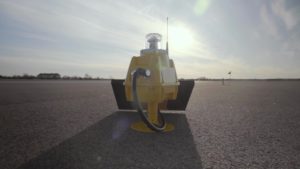 Efficiency

S4GA airport lighting operates continuously 365 days a year on solar energy. Moreover, the system is fast and easy to install and requires minimum maintenance that can be performed by local engineers. 
Technology 
Conducted tests and measurements proved S4GA solar airfield light to meet the specific requirements of the Scottish environments (e.g. limited solar potential, low temperatures). S4GA's Rapid Charging Technology allows obtaining 100% battery level within only a few hours of charging. Large power banks integrated into SP-401 lighting units keep the system operational in periods of no sunshine. 
Safety
S4GA system is a power-safe runway lighting which means it will keep operational regardless of power supply issues or loss of one or few lights. It is possible with 5-Level protection against system failure which S4GA runway lighting is equipped with.
Cost-saving solution
Because S4GA's light fitting technology uses only solar energy, the airport will pay zero electricity bills for the light unit operations and minimal energy for the control system – a very green alternative to a fixed traditional Airfield Ground Lighting system.  
Request a quote