S4GA Solar Airfield Lighting certified for permanent use in Australia
S4GA offers a complete solar airfield lighting system for civil and military airports Worldwide. So far, it has been certified by TÜV Rheinland in accordance with the MOS 139 regulations issued by CASA – Australian Civil Aviation Safety Agency. Cost savings, simple maintenance and reliability make it the No. 1 alternative to conventional (6.6 Amp powered) runway lights.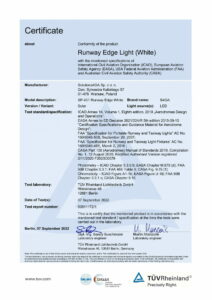 Compliance of S4GA Solar Airfield Lighting
ICAO Annex 14, Volume 1, Eighth edition, 2018 "Aerodromes Design and Operations";
EASA Annex to ED Decision 2021/004/R 5th edition 2015-09-15 "Certification Specifications and Guidance Material for Aerodrome Design";
FAA "Specification for Portable Runway and Taxiway Lights" AC No. 150/5345-50B, September 20, 2007;
FAA "Specification for Runway and Taxiway Light Fixtures" AC No. 150/5345-46E, March 2, 2016 ;
CASA Part 139 (Aerodromes) Manual of Standards 2019, Compilation No. 1, 13 August 2020, Rectified Authorised Version registered 2/11/2020 F2020C0079
Find certificates on the S4GA website
All certificates are available for download on S4GA website. Click here to find certificates for the product you are interested in. For more information, please contact us.
Check Certificates