S4GA Premiere at Inter Airport SEA'19
S4GA Sales Team has recently returned from one of the biggest Asian events in the airport industry – Inter Airport Southeast Asia 2019. The Show took place in Singapore on 27th of February – 1st of March.
It was the first time S4GA participated in the Asian edition of inter airport. However, the result exceeded expectations: Company's Booth has never been empty. Together with its local partner – Hardelec Engineering – S4GA has meetings with airport authorities, military, civil aviation authorities, airfield consultants and other aviation professionals interested in solar airfield lighting.
SOLAR AIRFIELD LIGHTING FOR ASIAN AIRPORTS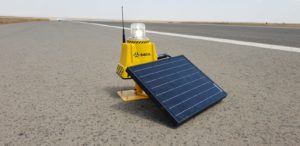 At IASEA'19, S4GA presented World's Safest Runway Lighting – a complete solar LED airfield lighting system for non-precision airports. The solution is ideal for Asian island countries – Indonesia, Malaysia, Philippines and others – where tourists flow increased dramatically in the past few years.
S4GA's solar LED airfield lighting is the only AGL solution available on the market with 5-level protection against system failure which makes it the safest runway lighting in the World.
Designed for permanent applications, S4GA solar runway lighting operates 365 days on solar energy. It does not require any cables, CCRs and transformers which makes the system's maintenance much easier and cheaper compared to traditional wired airfield lighting.
S4GA AT GLOBAL TRADE FAIRS
Have you missed us in Singapore? We are exhibiting in Dubai in April-May'19. Book a meeting NOW and we will contact you in advance.
book a meeting at dubai airport show