S4GA joins ACI Africa – The Voice of African Airports
We are proud to announce that S4GA has recently become the Member of ACI Africa – an international association of African Airports.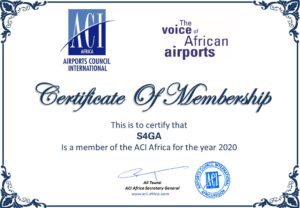 S4GA Impact On Airsafety Of African Airports
Working together on providing the best runway lighting solutions for African airports gives great development possibilities both for S4GA and ACI Africa.
S4GA as a leader in solar airfield lighting is the most reliable and trusted AGL solution provider for African airports. With its solar airfield ground lighting – which is easy to install, operates 365 days a year on solar energy, and requires minimum maintenance – S4GA is the perfect fit that meets the specific requirements for runway lighting in the region.
No doubts that cooperation between ACI Africa and S4GA will bring the highest quality airfield lighting for African airports, and will increase the safety of airport flight operations. Civil and military airports in Africa have been already experiencing the benefits of S4GA solar AFL – read case studies here.
ACI Africa – The Voice of African Airports

ACI, the only global trade representative of the world's airports, has regional offices in Africa, Europe, North America, Latin America, and Asia. Its main goal is to develop international standards, policies and recommended practices for airports.
ACI Africa, managing now more than 260 airports, advances the interests of African airports and promotes professional excellence in airport operations and management. It provides programs and services that lead to achieving a safe, secure and sustainable development of the air transport industry in Africa.
Contact us for more information about S4GA upcoming events and activities in Africa.
Contact S4GA