S4GA at MILENG COE Industry Day 2021: Trade Fair Outcome
S4GA has successfully attended MILENG COE Industry Day  2021 – one of the top events for the entire military and defense industry taking place in Ingolstadt, Germany – gathering industry professionals from all over the World.
On 8th December 2021, S4GA Team presented its Airfield Lighting Systems for military applications.
S4GA Runway Lighting at MILENG COE INDUSTRY DAY 2021
During the event, S4GA presented airfield lighting systems that we offer for the military.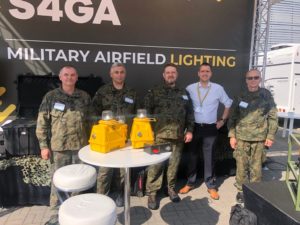 S4GA Military Airfield Lighting Systems are applicable for all types of NATO STANAG runway lighting systems. Both solar permanent and portable airfield lights are designed to withstand extreme operating conditions such as high and low temperatures, high humidity, salty and sandy environments.
Today, S4GA  runway illumination is successfully used by military and civil airports in Europe, Africa, Asia, Latin America, and Oceania.
S4GA team's meeting with airbase EngineerS
During MILENG COE Industry Day, S4GA team had a great opportunity to meet with our current and potential partners, customers, airbase engineers, and defense consultants from all over the World. It was a great joy to present S4GA solutions to our visitors, address the questions, and get their opinion on S4GSA airfield lighting systems.
During the event, we discussed with experienced professionals working in the military and defense industry for decades. They shared their practice with airfield lighting systems. We talked about the advantages and concerns related to both permanent and portable airfield lighting solutions. We believe that such discussions are very important as this is the best way to get feedback from AGL end-users. We are very grateful for all the meetings and hope to meet you all soon!