New Zealand: Regional Airport joined S4GA FREE Trial Program
The New Zealand Airport faced a problem when they realized that their conventional lighting installation was not cost-effective and sustainable in the long run. After researching various alternatives, they decided to try the S4GA FREE Trial Program and opted for solar airfield lighting.
feasibility study
The airport was situated in an area where the weather conditions were challenging, with heavy rainfall and low sunlight. They were concerned about whether solar airfield lighting would be able to perform optimally in such conditions. However, they decided to give it a shot! First of all, we decided to conduct a feasibility study to determine the safe amount of daily hours that solar airfield lighting can operate (be activated at a selected intensity level). Check the number of daily operating hours depending on intensity level and month below.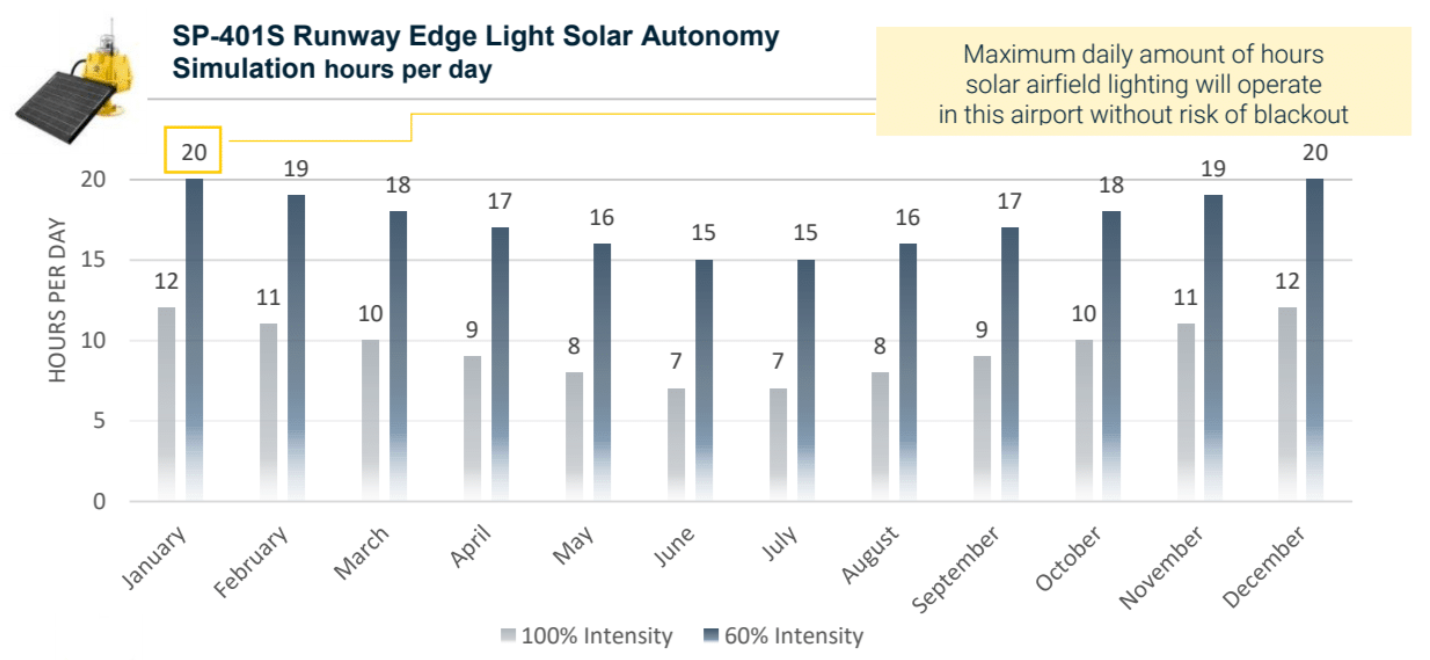 The Feasibility Study utilized the PVGIS system, which is an EU-approved online tool that employs satellite-based solar historical data to simulate the performance of solar-powered equipment in a specific location.
On-site testing
During the trial period from 19.01.2023 to 14.02.2023, the weather was unfavorable, with intermittent rain and cloudy skies (the average level of cloud cover was 53%). Despite this, the S4GA Solar Airfield Lighting managed to operate smoothly, providing the necessary lighting to ensure safe landings and take-offs.

During S4GA FREE Trial in New Zealand, all lights have been tested in dusk-to-dawn mode. Runway and Threshold-End Lights have been activated for 257 hrs in total during 27 days of the trial period (on average for 9,5 hrs a day).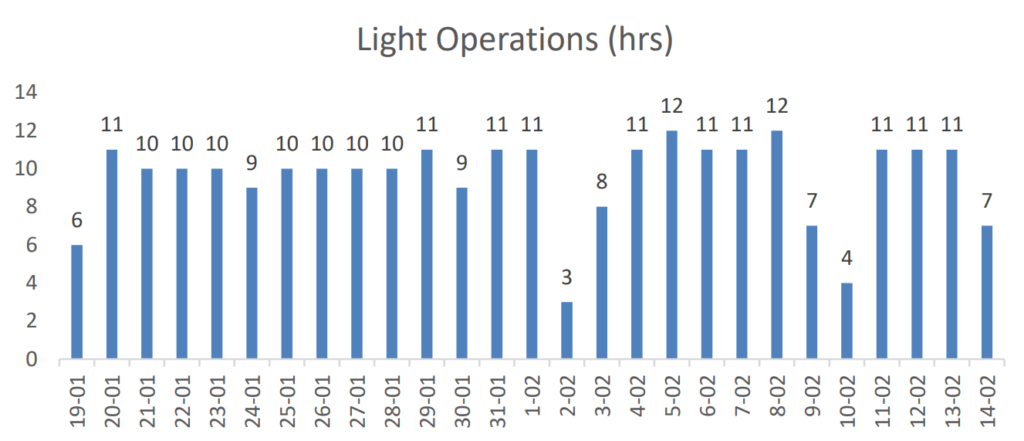 For 48% of time, lights have been activated at 30% intensity level;
For the remaining 52% of time, lights have been activated at 100% level.
During S4GA FREE Trial in New Zealand battery level of every light is monitored. Battery level is measured every time when it changes for min 1%. Every hour measured battery levels are transferred from Control and Monitoring Unit to the S4GA server for analysis. The airport officials were impressed with the solar lights' performance, as they maintained their efficiency and brightness even in low-light conditions.
CONCLUSIONS
During FREE Trial Program, we tested the reliability of S4GA solar-powered airfield lights under challenging weather conditions – high cloud cover and no-sun days – to ensure the technology meets the needs of airfields even on cloudy days. We confirmed that our lamps can operate for 10 hours a day without any restrictions, providing a significant safety margin beyond the required 2-hour lighting period for airfields. This trial validates the results of our Feasibility Study and demonstrates the reliability of our technology!
Overall, the airport's decision to switch to Solar Airfield Lighting proved reliable and efficient, even in challenging weather conditions, making it a valuable investment for any airport looking to switch to sustainable lighting solutions.
would you like to join S4GA FREE TRIAL PROGRAM?
If you're looking for a reliable and sustainable way to power your airfield lighting, then join the S4GA free trial program today! With our solar-powered lighting systems, you can ensure uninterrupted operations and enhance safety for pilots.
By participating in the trial, you'll have the opportunity to test our cutting-edge technology firsthand and see the results for yourself. Don't miss out on this chance to revolutionize your airport's lighting system. Sign up now and experience the benefits of solar autonomy!
Register Now