National Police Air Support in UK chooses S4GA Solar Helipad Lighting
S4GA together with our partner Dewhurst Airfield Services, has been awarded to supply National Police Air Support of the United Kingdom with a Solar Helipad Lighting Solution. The UK Police will benefit from using S4GA FATO (Final Approach and Takeoff) lighting, supporting police helicopter operations using VHF remote switching from the cockpit.
S4GA Solar Technology FOR UK Police
The  Police Air Support Unit assists front-line officers with crime investigations, anti-crime operations, traffic management, search and rescue, crime reduction initiatives, and tackling terrorism. It was first formed in 1992 and is granted a Police Air Operators Certificate by the UK Civil Aviation Authority. 
In recent times the Unit struggled with unreliable helipad lighting, which could bring risk to its missions and actions. In a high need of new lighting solutions, the Police started to look for a dependable and reputable helipad lighting supplier, who will meet all of their requirements in terms of reliability and performance.
How will THE UK Police benefit from S4GA Solar helipad Lighting?
In choosing the new lighting system few key factors indicated S4GA as the leader with advanced solar helipad lighting technology: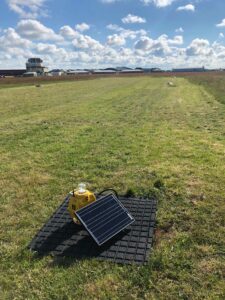 Thanks to the S4GA Helipad Lighting Solution, the UK Police Air Support Unit will ensure its availability 24/7, bringing the safety of its' nighttime flight operations to the next level.
Request a quote