Register for Free Trial Program for UK Airports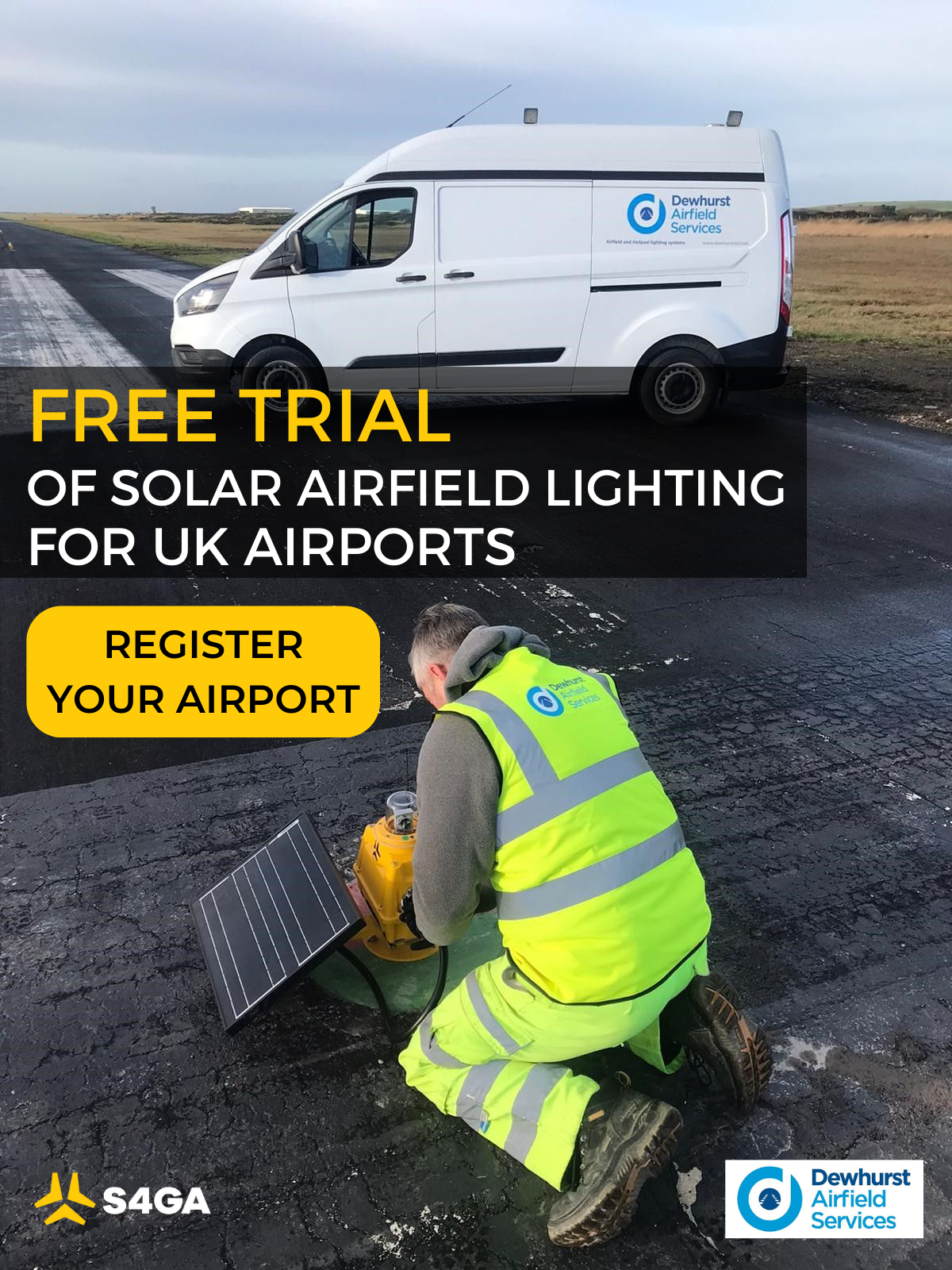 In 2023, S4GA together with our partner – Dewhurst Airfield Services – is starting a unique program for UK airports. We will hold a set of free trials of our Solar Airfield Lighting System at several airports in the UK.
We've already successfully performed the testing at 3 regional airports in Scotland, Wales and London Area. One of our latest installations of solar airfield lighting in UK was Campbeltown Airport.
We are planning to perform the trial for other UK airports during 2023.
Register now


Dewhurst Airfield Services Ltd. is a UK-based organisation, established in 1887. Since then it has been committed to building a solid reputation within the electrical engineering industry and has now successfully developed into a multi-faceted organisation.
Dewhurst Airfield Services Ltd. are respected for their comprehensive aeronautical ground lighting services to both Civil and Military Airfields and are actively involved in the promotion of competency for personnel actively involved with AGL systems.
What are the adventages of s4ga solar agl for regional airports in uk?
Operates 365 days a year on solar energy

Fast and easy installation

Suitable to the UK environment (imited solar potential, low temperatures etc.)

Easy maintenance that can be performed by the airport personnel

Compliant with ICAO, EASA requirements
What is a Free Trial from S4GA?
We install demo lights and Airfield Lighting Control & Monitoring System at your airport.
You test the equipment for the next 4-6 weeks, while handling normal flight operations.
ALCMS collects the data about each light and saves it on an online server.
We analyse the data and make conclusions whether the lights meet the airport requirements, including the time of operating without them being discharged, along with the general level of satisfaction with the S4GA lighting performance throughout the test period.
How to take part in the program?
Register your interest here and we will contact you shortly with the details.
Feasibility Study of S4GA Solar Runway Lighting
What is the cost?
Participation in Trial Program is free of charge.
S4GA Solar Airfield Lighting
Our Solar Airfield Lighting is a perfect solution for regional, domestic, and military airports located in remote areas. Great for those looking for easy-to-maintain permanent airfield lighting. We offer complete solar system with control & monitoring system. S4GA airfield lighting is compliant with ICAO, EASA, FAA, MOS, NATO STANAG.
Register now