solar power upgrade for sp-102 Airfield Light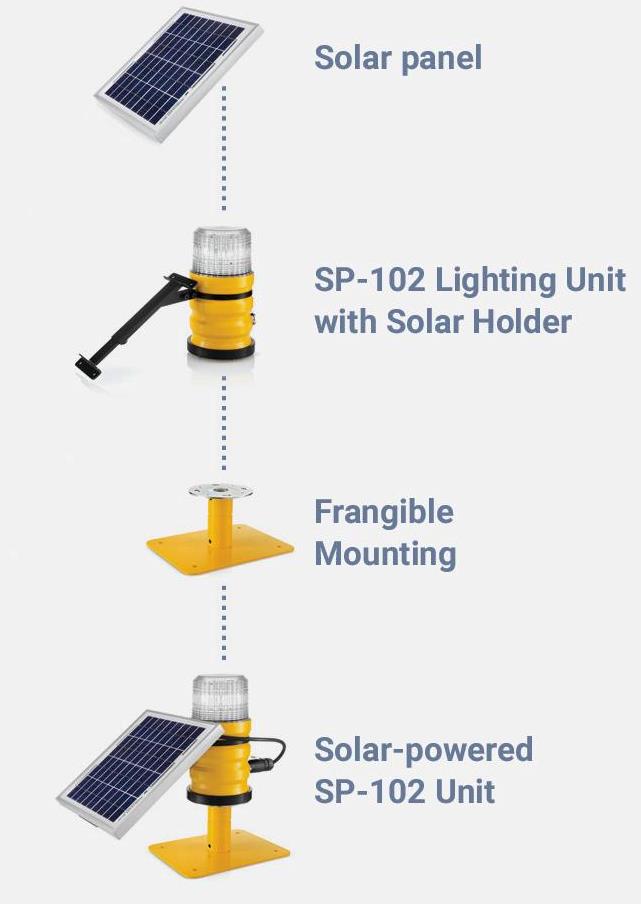 Every SP-102 aviation light can be upgraded to solar-powered portable airport light. SP-102 solar light is a self-contained fully autonomous lighting unit. Charging time via solar panel is only 8 hrs which means that during one day the light is fully charged and ready to operate for the next 36 hours. Optimal inclination of 5W solar panel ensures maximum energy collection during daytime.
*Important:
– Upgrade does not include SP-102 lighting unit (shown on the picture)
– Upgrade does not include frangible mounting (shown on the picture)
– Lighting unit should be ordered separately
– Mounting should be ordered obligatory
get quote
OCT-102 chargER FOR sp-102 portable airport lights
OCT-102 Charger can charge up to 6x SP-102 airfield lights simultaneously. Charging station supports both 230V and 110V and is equipped with Type E electrical plug.
protective casing for sp-102 portable airfield lights
Casing accommodates up to 6x SP-102 aviation lights. Shock-absorbent foam offers reliable protection in case of transportation and storage.
learn more
mountings for GRASS AND asphalt surfaceS
SP-102 Portable Airfield Light is fixed to different types of surfaces by using appropriate mounting
rubber pad
frangible mounting for asphalt / concrete surface made of aluminium
mounting stake for grass / ground surface made of non-corrosive stainless steel
mounting for ground / grass surface
Mounting stake for grass / ground surface is made of non-corrosive, stainless steel.
get quote