Downloads
Related products
Video & Multimedia
Product Description
Downloads
Related products
Video & Multimedia
Product Description
Downloads
Related products
Video & Multimedia
Product Description
Downloads
Related products
Video & Multimedia
Product Description
Runway Approach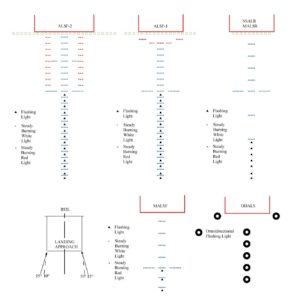 Runway approach is a part of an airfield located before the beginning of a runway. This is the area where aircraft still cannot land but flies very close to the ground and approaches runway. Runway approach is an open area with no trees, high electrical cables or any other high objects that can interfere aircraft landing. This area, however, is not covered with an asphalt surface.
Approach Lighting System – ALS
Approach Lighting System (or ALS) gives a visual indication of runway approach and helps pilots to do landing safely. Approach lighting consists of set of different types of lights. Construction of approahc lighting system is also different depending on the size of airport and types of aircrafts this airport can take flights from.
Types of Approach Lighting Systems
There are few types of ALS systems recognized by ICAO (International Civil Aviation Organization). However, today airfield lighting suppliers offer much more variations of approach lighting systems. Most of them are high-intensity ALS.
Let's have a look at the most common ALS systems:
MALS is a Medium-intensity approach lighting system. It may include Runway alignment indicator lights (such system is called MALSR) or sequenced flashing lights (MALSF)
SALS is a Short approach lighting system. Simplified SALS is called SSALS. SSALS – as MALS – may  include Runway alignment indicator lights (SSALR) or sequenced flashing lights (SSALF)
ODALS is an Omnidirectional approach lighting system
ALSF is an Approach lighting system with sequenced flashing lights. There are two types of ALSF – ALSF-1 and ALSF-2. Difference between them is in number and configuration of approach lights.
ICAO HIALS – ICAO-compliant high-intensity approach lighting systems. They are also coming in two configurations – ICAO-1 HIALS and ICAO-2 HIALS.
Solar Approach Lights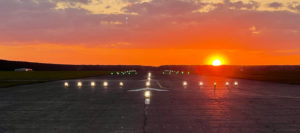 If an airport is located in region with limited access to electrical infrastructure and high photovoltaic potential, solar powered approach lights will be the best solution. S4GA solar approach lights are ICAO-compliant airfield lights applicable for permanent usage at airfields. Solar approach lights can be used for short approach lighting systems – SALS, simplified short approach lighting systems (SSALS), omnidirectional approach lighting systems (ODALS) and few other types of ALS.