Off / On - Complete System

Control & Monitoring System
Runway Edge Lights
Runway Threshold Lights
Taxiway Lights
Wind Direction Indicator
PAPI / A-PAPI
Guidance Signs
Approach Lighting Sytem
Model of LED runway lights and markings. This diagram explained how does the airport runway lights works, their color and where are located.
Solar runway lighting system
S4GA airport runway lighting is a complete alternative to conventional (hard-wired) AGL system. It is ICAO compliant off-grid airfield lighting with individual light control and monitoring. Each element of the system is connected with others via wireless mesh network.
solar agl as primary runway lighting
Few years ago solar airport runway lighting was used in most cases as a temporary solution: during repair works on the main RWY lighting, as portable aerodrome lights on small private airfields, etc. However, today solar AGL became a permanent solution for many regional and domestic airports.
S4GA solar powered runway lighting is the first in its class lighting system designed as permanent airfield lighting for non-precision airports located in regions with high photovoltaic potential, limited access to electricity and increasing flight traffic.
S4GA solar AGL operates 365 days on solar energy. Even during winter months, when sun activity is the lowest in a year, S4GA solar runway lights keep operating on solar energy
LEARN MORE
We use independently installed solar panel which allows generating 4-x more electrical energy compared to solar panels inbuilt in the walls of lights. As a result, the battery in airfield light charges faster.
S4GA runway edge light provides 1.200 cd of light output – so far there is no solar aviation light on the market which can provide even close amount of light.
We use non-licensed 868 Mhz for wireless communication. Some of other AGL manufacturers use certified frequency of 900 Mhz which requires special approval.
For better understanding how does our solar runway lighting system works please read our description below. You will know how does the runway lights works at night, we will explain colors, meaning and standards of model airport runway lights at diagram.
Runway lights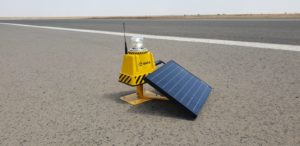 When looking at runway lights at night, one can assume that they are only used for illuminating the most important part of an airport. Quite the opposite. Runway lighting colors, intensity and type can navigate a pilot so as the landing operation is safe.
So what types of airport runway lights are there? What do the particular runway lighting systems mark? And finally, what's the meaning of runway lights for a pilot?
You will find answers to these questions here.
We'll also take a closer look at solar runway lighting – is there a future in it?
Runway lights and markings
A runway is equipped with a few types of lights. First and foremost, there are runway edge lights. Threshold lights accompany them. Moreover, most of the airports worldwide have Runway End Lights (End of Runway Lights), Approach lighting systems (ALS) and Wind direction indicator lights. A pilot operating an aircraft on the ground of an airport is also directed by a system of signs, but this is a topic for a separate article so we won't spend more time on it today.
This is about runway markings, what's more?
Solar runway lights
While discussing airport lighting, solar lighting cannot be skipped out. Even though the conventional lighting is still used at most of the airport, solar systems are gaining in popularity. They are not only equally reliable but also cheap and easy to install and maintain. Additionally, solar-powered runway lights are utterly irreplaceable at remote airports with hindered electricity access or no access at all.