AMA will represent S4GA in India
In Munich at Inter Airport '17 S4GA signed an exclusive contract with AMA India, the leading conventional airfield lighting manufacturer in the country.
S4GA and AMA started business relationships in 2016. With its environmental policy and natural weather conditions, India has a huge potential for using solar technologies in aviation. However, each company entering Indian market must have a strong reliable local partner. AMA is on the market for 60 years with an enormous amount of projects completed successfully.
Now S4GA and AMA became partners which strengthen the position of both companies in airfield lighting business.
About AMA India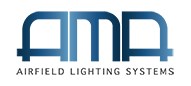 AMA is a pioneer in Indian Airfield Lighting business. The Company works with civil and military airports across the country. AMA not only manufactures and supplies cabled airfield lighting equipment but also provides a wide range of AGL services: design, installation and maintenance, training and after-sales support.
AMA technical specialists illuminated such hubs as Cochin International Airport, Mumbai Airport, Hyderabad Airport, Bangalore International Airport.