NO. 1 CHOICE FOR
NON-PRECISION
IFR RUNWAYS
Affordable alternative for conventional (wired) lighting
Conventional runway lighting system is a highly complex AGL. Energized by electrical circuit – it requires advanced infrastructure including: constant current regulators, isolating transformers, thousand meters of primary and secondary cables, etc. Unlike conventional cable-based lighting, Solar airport lighting is 100% wireless and consists of independent airfield lights. There is no need to build complicated electrical circuit which significantly lowers overall cost of Solar AGL. Less complex system makes it easier to maintain and troubleshoot.

ICAO Compliance verified by third-party testing

Affordable alternative for conventional wired lighting

Installation takes only 5 days
Products overview
more reliable than wired lighting
Our customers value Solar AGL because it provides them with access to reliable infrastructure in locations where traditional lighting is not suitable. S4GA lighting increases safety, saves money on maintenance and helps to make money due to increased operations. Many features of Solar AGL makes it significantly more reliable than Conventional (wired) system.
Read more
for medium-sized regional airports
Booming passenger traffic forces airports to expand. Large International Airports concentrate significant resource to build new terminals, add runways and taxiways in order to be able to process up to 3x more passengers within 10-15 years. International hubs or major airports usually receive significant budget allowing them to cover infrastructure-related expenses.
Aside from large airports, there is a significant number of medium-sized regional airports that require being equipped with modern runway lights. Unavailable or unreliable lighting limits ability of airline operators to perform scheduled flights to such airports. Less scheduled flights means that airport looses money that otherwise could have been earned.
Due to the limited budget, Airport Managing Companies are either forced to postpone investment, invest in low-quality conventional lighting or operate outdated systems that provide poor visibility and are often unreliable.
Driven by intention to expand airport's operating hours Airport Managing Companies frequently contact S4GA. The main aim is to find an affordable alternative for conventional airfield lighting system.
for Airports with limited budget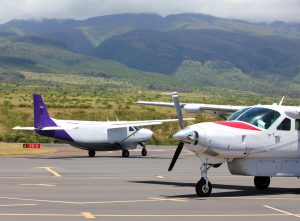 Affordability of airfield ground lighting (AGL) cannot compromise redundancy or quality of the system. One of the ways to achieve affordability is by decreasing amount of resources required to install and operate AGL. Solar airfield lighting requires no complicated electrical circuit to operate and can be installed within days instead of months. Those two aspects reduce price of airport runway lights and make up to 3x cheaper than similar layout but conventional (cable/mains) lighting system.
Solar AGL can be installed by local construction company or even airport personnel (supervised by S4GA). Conventional lighting at the contrary requires significant engineering knowledge to be well designed and installed. Poor quality of installation may lead to disfunction of conventional airport lighting. Such risk does not exist in case of Solar AGL as this system is designed to be plug-and-play. This means that airport can order nearly "out of the box" lighting system and install it on its own.